Download hi-res (8.3mb) pdf of flyer.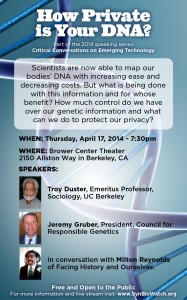 Scientists are now able to map our bodies' DNA with increasing ease and decreasing costs. But what is being done with this information and for whose benefit? How much control do we have over our genetic information and what can we do to protect our privacy?
WHEN: Thursday, April 17, 2014 – 7:30pm
WHERE: Brower Center Theater 2150 Allston Way in Berkeley, CA
Free and Open to the Public
SPEAKERS: Troy Duster, Emeritus Professor, Sociology, UC Berkeley
Jeremy Gruber, President, Council for Responsible Genetics
In conversation with Milton Reynolds of  Facing History and Ourselves
This event will be livestreamed here at synbiowatch.org.