Synthetic Biology States vs. the Rest of the World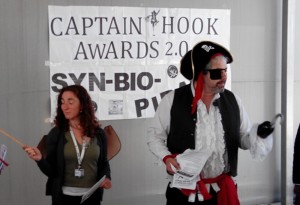 PYEONGCHANG, SOUTH KOREA–Tensions are rising at UN
talks concerning oversight of synthetic biology technology, sometimes called extreme genetic engineering. A small club of wealthy nations with powerful biotech industries, (Canada, Australia, New Zealand, Japan, Switzerland, Brazil and the European Union) have been clashing with developing countries from Africa, Southeast Asia, Latin America and the Caribbean over the need for international governance frameworks for synthetic biology.
The Syn Bio Club may be looking out for their domestic biotech industries, but countries of the South say they are trying to protect the livelihoods and interests of millions of small farmers, peasants and Indigenous peoples.
"What we are seeing here is a fight between a handful of rich Syn Bio states and the poorer states of the global South whose farmers and biodiversity are being threatened by the new synthetic biology industry," explains Silvia Ribeiro, Latin America Director for ETC Group who is in Pyeongchang Korea monitoring the talks. "The Syn Bio Club are resisting an international framework for extreme genetic engineering – it's as if the biotech industry is dictating their position."
Regarded as the next phase of development of the genetic engineering industry, synthetic biology encompasses a range of far-reaching bioengineering techniques that give companies greater control over lifeforms' DNA, which they are re-designing and manipulating for industrial purposes. The first products of synthetic biology, typically produced by re-engineered yeast or algae, are now entering use in food, fragrances and consumer products.
Syn Bio company Evolva, which has been prominently visible in Pyeongchang, recently released a form of vanilla flavour produced using re-engineered algae. Unilever and Ecover have incorporated Syn Bio algae oil into soap products. Many other products, most targeting high-value crops traditionally cultivated by small farmers in the South, are forthcoming.
Civil society has raised concerns that these new products displace traditional botanical production of vanilla, coconuts and other tropical natural products as well as introduce significant biosafety risks.
"There could be serious long term socio-economic and safety effects of releasing and commercialising these experimental engineered organisms," said Jim Thomas of ETC Group. "Synthetic biology is often presented as a world-changing disruptive force. Without an international governance framework to restrain it this could pose serious threats to the environment and the livelihoods of tens of millions of farmers."
Since last week, groundbreaking global talks have been underway about regulating this brand new industry. The 194 countries attending the UN Convention on Biological Diversity (CBD)'s 12th Conference of the Parties (COP12) are involved in the heated debate.
Stark differences emerged over the weekend concerning proposals that countries should base domestic regulation of synthetic biology on international frameworks. Southern countries including Bolivia, Philippines, Malaysia and African states insisted that international frameworks cannot be merely an optional extra for countries of the North to ignore. The Syn Bio Club already blocked early requests for a moratorium on release of synthetically modified organisms. Civil Society groups monitoring the talks have been dismayed by the intransigence of the Syn Bio Club. In one case the EU position appears to have been hamstrung by just a few particularly pro-Syn Bio countries led by the UK, which recently pledged close to 100 million dollars to developing its Syn Bio industry.
"As this club of Syn Bio states aggressively push the biotech industry's agenda here in Pyeongchang," said Neth Dano, Asian Director for ETC Group, "it seems that their citizens are not being informed about the reckless actions their governments are pursuing."
Captain Hook Awards:
On Tuesday, civil society groups held a colourful "Captain Hook Awards for Syn Bio Piracy" to draw attention to how the new Syn Bio technologies steal away livelihoods and genetic resources. The UK and Canada received a "Pirate's Cove" award for sheltering the Syn Bio industry and aggressively pushing their interests.
Swiss Syn Bio firm Evolva received the "Monsanto Wannabe" Award for Harming Small Farmers. Evolva just commercialized Syn bio Vanillin which may impact 200,000 Vanilla growers. It's about to commercialise Syn Bio saffron, which will impact middle eastern saffron growers.
Glowing Plants inc of San Francisco California were awarded the "Wild and Wacky Biohacky" award for their plan to mail out hundreds of thousands of synthetically modified seeds to thousands of random financial backers despite the lack of oversight or regulations for environmental release of Syn Bio organisms.
-30-
For further information please contact the ETC Group at the talks in Korea:
For more about Syn Bio and its effects on farmers, visit:
SynBioWatch.org
To read more about Captain Hook Awards 2014:
CBD Alliance:
IISD Reporting Services: